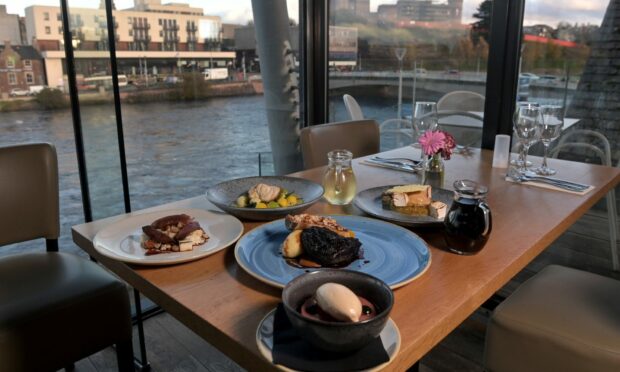 The Inverness food scene is unlike that of any other Scottish city.
Despite the vast number of people who flock to the Highland capital each year, the streets aren't lined with chain restaurants and familiar names.
Sure there's a Nando's, two McDonald's, a Zizzi and – a ghost of birthdays past – a Frankie and Benny's.
What Inverness does instead is conjure up a host of local independents – and it does it well.
There is a balance between new ventures, like Hou Hou Mei and Jimmy Badgers, and steadfast staples that roll of the tongues of locals when asked where they recommend.
The Kitchen Brasserie is one of the staples, not least because it is the sister restaurant of The Mustard Seed which is arguably one of the best known restaurants in Inverness.
I hadn't been until recently, but given my love of the latter it's safe to say I was expecting great things.
The Kitchen Brasserie
In my opinion, some of the restaurants in Inverness that are blessed to be situated by the river don't make the most of it.
Luckily, The Kitchen Brasserie is not one of these places. It totally embraces its riverside location; the wave-like roof mimics the movement of the water and the glass facade means there is hardly a bad seat in the house.
My boyfriend Aidan and I headed to the restaurant for a meal one dark Friday night and were warmly welcomed in from the cold.
We were taken up to the first floor by a very friendly staff member and led to a table which had a fantastic view of the River Ness with the city's lights dancing along it.
The restaurant has a cosy feel, with enough tables to create a buzz but not so many that the relatively small space feels cramped.
We decided to do a fun experiment and both order the mint julep, a cocktail version for Aidan (£8.25) and a mocktail version for me (£4.95), the designated driver for the night.
We both love a minty cocktail, with mojitos being one of our go-tos, and both the alcoholic and non alcoholic mint julep were the perfect accompaniment for our meal – I loved the ginger kick.
The food
I, of course, follow The Kitchen Brasserie on social media and it excited me that they seemed to change up their menu and specials often. While I am one of those people who studies a menu before eating somewhere, I also like an element of surprise.
The menu did not disappoint, with a lovely range of fish, meat and veggie dishes at various price points.
Aidan takes trying new restaurants very seriously – to the extent that he will now indicate which parts of our conversation I should remember to quote him on.
By the time he had finished his first bite of his beautifully presented wood pigeon starter (£10.50), his opinion of the dish had already fully formed: "When something looks this good, it's often style over substance, but this starter is not."
Served with celeriac, quince and hazelnuts, it was meticulously presented and smelled incredible, so I do not doubt that his verdict was sound.
I skipped a starter because I had already eyed up the dessert menu and knew I needed to leave space.
When it comes to main courses, fish is my go-to, especially in Inverness where the quality is always incredible. On this night however I decided to push the boat out and go for meat. This was mostly down to the fact I had spotted the slow cooked beef cheek (£25.95).
Served with mashed potato, carrot, hazelnuts, king oyster mushrooms and a red wine jus, this dish was sublime.
The piece of meat was huge and – though I wish I could avoid the cliche – it melted in the mouth, meaning it was light despite the rich stickiness of the jus.
Aidan went for one of the day's specials, a baked monkfish tail with pickled cucumber, saffron potatoes, samphire, granny smith apple, sesame seaweed and almond fennel and dill veloute (£24.95).
His decision was driven by intrigue as we both agreed we couldn't figure out how so many rather weird and wonderful flavour combinations could blend together into one dish.
Unsurprisingly based on the standard of the other dishes, he loved it.
He said the fish was beautifully cooked, which cannot be said for all the monkfish I've tried in restaurants over the years, and that the dish as a whole was fresh while still maintaining a depth of flavour.
I sneaked a bit of the sauce which was a tad on the herby side for me, but that only meant Aidan was happier that my fork wasn't intruding on his side of the table.
Onto desserts, which I was very glad I had left room for.
We both had our eye on the pineapple dish, which was served with marshmallow, white chocolate, passion fruit and rum and raisin (£7.95). I always feel opting for the same dish is a wasted opportunity, so I agreed to swerve like the loving girlfriend I am.
Aidan's stubbornness ended up doing me a favour, as the strawberry custard jelly dessert I went for was delicious (£7.95).
If you ever had jelly and ice cream as a kid, this was like the grown up version of that flavour-wise.
The custard jelly part was like a firmer version of a panna cotta with a lovely strawberry flavour. It was served with tonka bean ice cream, salsa, syrup and mint which all tied in perfectly together.
The pineapple dessert was also wonderful, though Aidan reckoned the thick slice of pineapple at its heart could have been a little thinner to make the dish easier to cut through and devour.
I had heard from a few foodie friends that the portions at the restaurant could be on the smaller side, but we were both really happy with each of the courses we got.
The verdict
The Kitchen Brasserie is a perfect example of the kind of restaurant I want to eat at.
You can tell the sheer amount of thought and care that has gone into each dish, but it doesn't feel fussy. The staff are attentive and kind, but you aren't scared to pick up the wrong fork for your starter.
Each dish was beautifully presented and I think the versatility of restaurant and its offering could lend itself to every occasion from a celebratory meal to a cosy Sunday lunch by the river.
---
Lauren Robertson is part of The Press and Journal's Live News Team and lives in Inverness.
She is one of our staff reviewers and runs her own lifestyle Instagram account Highland Highlights which showcases things to do in Inverness and the surrounding area.
---
Information
Address: The Kitchen Brasserie, 15 Huntly St, Inverness IV3 5PR
T: 01463 259119
Price: £90.50 for one starter, two mains, two desserts, one mocktail and one cocktail. A service charge wasn't added to the bill.
Scores:
Food: 4/5
Service: 4/5
Surroundings: 4/5

Courtesy of Latest News and Sport Headlines from Inverness | Press and Journal