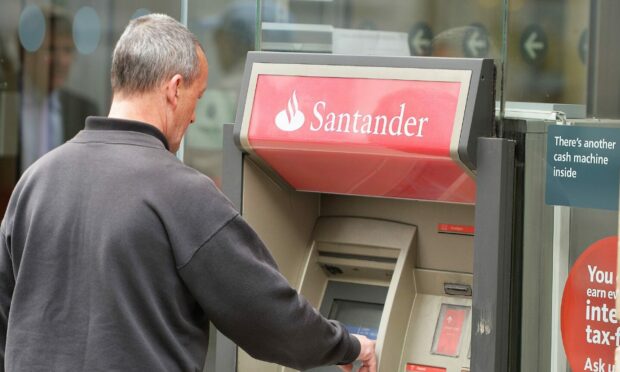 Nearly 200 bank machines have closed across Aberdeenshire, Moray, the Highlands and islands in the last four years, research from the UK Parliament has shown.
Concerns about access to cash across the north have been growing in recent years as the last bank closes in many rural communities.
The Aberdeen South constituency has been the most hit, losing 36% of its ATMs since 2018, the most in Scotland.
All of the House of Commons' 650 parliamentary constituencies were analysed, including Scotland's 59 seats.
The research from the House of Commons Library examined how many ATMs each constituency has per 10,000 people, as well as how many have closed in the four years between 2018 and 2022.
In total, Aberdeen South lost 36 of its cash machines during this time, while West Aberdeenshire and Kincardine had the second highest amount of closures in Scotland.
The constituency, which includes Royal Deeside, lost 30.8% of its ATMs, equating to 20 in total.
Gordon, which takes in the northern Aberdeen suburbs of the majority of Bridge of Don and Dyce, as well as the Aberdeenshire towns of Ellon, Huntly and Inverurie, was fourth in the table.
The constituency lost 25 cash machines in the four years, a total of 28.7%, above the Scottish average of 18.3%.
The Western Isles has been found to be the hardest place to access cash across the country, with the lowest number of cash machines per person, standing at just 2.2 per 10,000 residents, but only lost two during this time.
At the other end of the scale, Banff and Buchan ranked 56th of 59 constituencies, but still saw a fall in the number of cash machines available for the public to use, losing seven ATMs in total.
Between 2018 and 2022, the area lost seven, which was a fall of 9.2%, while Inverness, Nairn, Badenoch and Strathspey was placed 50th in the list after 15 (12.6%) of its ATMs closed.
How a Moray town was left without a bank – but there is hope for the future
Along with the fall in bank machines across the region, a number of villages and towns have lost their last bank in town, including Forres.
The closure of the Bank of Scotland branch in July last year left the Moray community without a bank, meaning its nearest one is now 10 miles away in Nairn.
The announcement of the closure in March 2022 caused widespread concern amongst locals and politicians alike, including Moray MSP Richard Lochhead and the area's MP Douglas Ross.
Along with the closure of the Bank of Scotland branch, the town lost its TSB in April last year, while its Clydesdale Bank and Royal Bank of Scotland closed in 2015 and 2017 respectively.
However, there is hope for banking in the town, as it was announced in September that the town would get a shared banking hub and the Banking Hub Company has confirmed that it hopes to have its doors open by autumn this year.
Banking hubs are shared services that operates in a similar way to a standard bank branch, however, the counter service is run by staff from the Post Office.
Customers of almost all banks are able to do what they would usually do in branch, such as withdraw and deposit money and make payments.
Although no location has been confirmed, it is believed that a site in the town's High Street has been identified.
Meanwhile, cash machine operator Link has launched a scheme to bring free cash points to communities left without one with Kinloss, Cullen and Durness already benefitting from the scheme.
'Cash is vital for millions'
Responding to the figures, Aberdeen South MP, Stephen Flynn said it was important to maintain access to cash for communities.
He said: "Aberdeen South has suffered a number of local bank branch closures in recent years and with reports that more households are relying on cash due to the cost-of-living crisis, this is particularly worrying news.
"Trends in how people pay for goods have undoubtedly changed significantly, with that change having been escalated by the pandemic, but we need to ensure that existing infrastructure like the Link ATM network and the Post Office are fit for purpose and able to fully support cash access for years to come.
"In that respect it is within the UK Government's gift to act and make good on the warms words it offered on this matter last year."
Money editor of consumer choice website Which?, Jenny Ross added: "Cash is vital for millions of people, with many using it to help them stick to a tight budget and keep track of their finances amid the cost-of-living crisis.
"However, that's happening against the backdrop of ATM and bank branch closures, which make it harder for people to get their hands on cash.
"Long-awaited government legislation to protect access to cash is encouraging, but these new laws risk being undermined unless minimum levels of free access to cash are guaranteed, so people don't have to fork out to access their own money."

Courtesy of Latest News and Sport Headlines from Inverness | Press and Journal