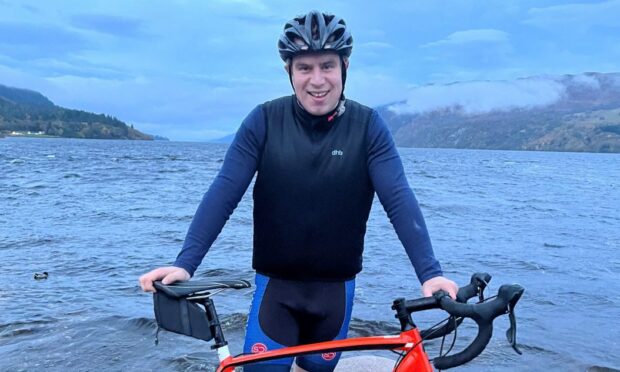 A Highland piper is preparing to cycle the length of Africa to help a major project to build a support centre in Inverness for people with complex needs.
John Prendergast, 19, has already raised more than £2,000 for the Elsie Normington Foundation.
The charity will open the Haven Centre, a project that has been years in the making, in Smithton, Inverness in spring 2023.
The trip means a lot to John for a number of reasons. He is helping the foundation because he wants to help people like his brother Andrew, 20, who has Down's syndrome and is autistic.
He will also be following in his grandfather's footsteps.
More than 70 years ago, David Lessels walked the length of Africa and back again from his home in Dunfermline.
The expedition took him five years.
'I feel compelled to help'
John left Gordonstoun school in Moray earlier this year. He is on a gap year before he starts a university degree in geography in September.
John spends a lot his time busking in Inverness High Street and Fort Augustus, where he lives with his parents, to help fund the trip.
He also plays as a piper professionally, regularly appearing at weddings and funerals.
Both his grandfather and his brother will be at the front of John's mind as he pushes through the punishing 5,400 mile trek.
He said: "Simple tasks can prove extremely difficult for Andrew. It is a huge challenge for my family to provide him the round-the-clock care that he deserves.
"I feel compelled to help him, and other people like him across the Highlands. That is why I've decided to raise money for the Elsie Normington Foundation."
Andrew left school during the early days of the coronavirus pandemic in 2020.
He is yet to fully understand why his routine has changed.
His family hope the Haven Centre will be somewhere that he can go to take part in fun activities.
While there, his parents will know he's in a safe environment and be able to take a break from providing his care.
What route will John Prendergast take?
John's route will take him from Cairo in Egypt to Cape Town in South Africa.
Along the way, he will also pass through Sudan, Kenya, Tanzania, Malawi, Zambia, Botswana and Namibia.
It begins on January 14 next year and he expects to arrive in Cape Town on April 22.
Getting ready for the trip has required a lot of time and effort.
John said: "I do a lot of training on an indoor bike in my garage. I'm on it more than 11 hours a week at the moment. That is pretty full on around the rest of my week.
"Growing up around the daily hardships faced by Andrew and my family, I fully understand the importance of the work being completed by the foundation.
"And I am sure my grandfather will be watching over with a wink and a smile as I follow in his footsteps and do my best to help this wonderful charity."
The Haven Centre
Construction of the new Haven Centre in Smithton is continuing at pace.
It will be a multi-purpose facility for disabled children and young people comprising respite flats, an indoor and outdoor play centre, childcare facilities and a community café.
The project will create around 30 jobs once the centre is operational later in 2023.
The site is on Murray Road. It is the former location of Culloden Court Care Home, which was destroyed by a fire in 2010, and has lain derelict ever since.
Construction began in March 2022.
The £4m project has received support from the Scottish Government, the National Lottery Community Fund and Highland Council.
You can donate to the foundation using John Prendergast's Justgiving page here.

Courtesy of Latest News and Sport Headlines from Inverness | Press and Journal